WHY PATRICK
Patrick Donadio has spoken to and trained thousands of leaders and their teams in a variety of sectors over the past two decades, from Fortune 100 firms to associations.
Patrick has developed a results-based process, detailed in his book "Communicating with IMPACT," to teach people how to lead more masterfully, communicate more clearly, present more powerfully, create deeper relationships, increase their credibility, increase sales, achieve greater results, and have a positive impact on others.
As a Certified Speaking Professional (CSP™) and Master Certified Coach (MCC), Patrick can speak with your organization to: 
Engage

 individuals to learn new concepts to improve communication and grow your business

Inspire

 you and others to take action, try new things and improve results

Transform

 communications to impact you, your organization and those you serve.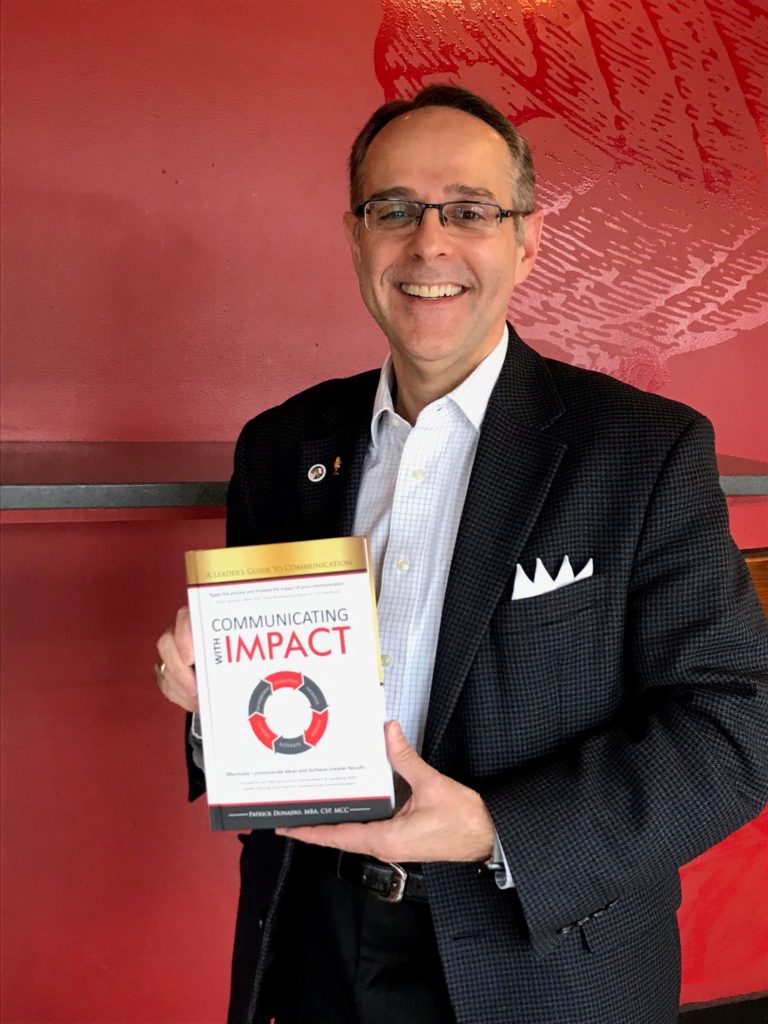 ABOUT PATRICK
Patrick Donadio, MBA, is a Certified Speaking Professional (CSP™) and Master Certified Coach (MCC). He guides leaders and their organizations with powerful presentations and one-on-one business communications coaching. From the boardroom to the classroom he teaches others how to lead more effectively, communicate clearly, present more powerfully, create deeper relationships, enhance your credibility, increase sales, achieve greater results and positively impact the lives of others.
A nationally recognized communication strategist, keynote speaker, educator, coach, and author of "Communicating with IMPACT", Donadio works with high-level leaders who want to develop professionally and organizations that want to grow their people and has trained thousands of individuals from Fortune 100 companies to organizations, associations universities, hospitals and governmental entities.
As a professional speaker, Patrick has spoken nationally and internationally. He is a longtime member of the National Speakers Association (NSA) where he earned his Certified Speaking Professional (CSP™) designation, NSA's highest earned designation. Currently, less than 12% of worldwide speakers have earned this prestigious designation, which indicates a speaking professional with proven experience and customer satisfaction. He has served NSA nationally in many leadership roles including serving on the national board; Chair of: the Editorial Committee for "Speaker Magazine", the CSP™ Committee, the Chapter Leadership Committee, the first co-chair of NSA's Business Coaching Profession Expert Group, and NSA Ohio Chapter President.
As a keynote speaker, he has empowered audiences at international and national conferences and has appeared on the same programs with such renowned speakers as Earvin "Magic" Johnson, LA Lakers point guard; Joan Lunden, former Good Morning America host; Roger Staubach, Dallas Cowboys' Quarterback; Elizabeth Dole, U.S. Senator; Lou Holtz, Notre Dame Legend; Harvey Mackay, best-selling author of "Swim with the Sharks"; George Will, ABC TV news and Comedian Jeff Foxworthy, just to name a few.
As an executive/business communication coach, Patrick works with "C" Suite Executives, Entrepreneurs, and other Professional Services Providers (Consultants, Lawyers, Accountants, Physicians…) to improve presentation/communication and media relation skills, increase sales, enhance their community image and grow their business. Donadio is a member of the International Coach Federation (ICF). He was among the first people awarded ICF's highest coaching distinction of Master Certified Coach (MCC). He is also co-founder and charter member of the Central Ohio Coaches Network
As an educator, Patrick has taught at The Weatherhead School of Management, The John Glenn School of Public Affairs, University of Notre Dame, The Ohio State University, Ohio University and Columbus State Community College.
Previously, Donadio served as an administrator at Ohio University, Vice President of consulting services for a national corporation, and as Executive Director for the nationally award-winning Ohio Crime Prevention Association. He received his Masters in Business Administration from The Ohio University, graduated Summa Cum Laude with a Bachelor's in Communications and was elected to Phi Kappa Phi honorary society.
Patrick has authored several learning programs including:

Communicating with IMPACT: A proven process to improve interpersonal communications
Becoming a Kaizen Leader: Rate your leadership skills, identify where and how to improve, and learn how to become a continuous learner.
The Secrets to Powerful Presentations: Improve the way you speak and/or present to others
Belief-Driven Success: How to take yourself to the next level, professionally and personally
Business Development: Growth strategies to position yourself as a market leader

In addition, his work has been published and profiled in numerous publications and broadcast media, including NBC Nightly News, CBS, ABC, Time Magazine, Psychology Today, Money, Small Business News-cover story, CEO Magazine, Business First, WCMH-TV, WBNS-TV, WTVN-AM, WSNY-FM, WOSU-FM… just to name a few.
Among his many accomplishments, Patrick participated in two different goodwill exchanges to Japan, promoting inter-cultural awareness.
Book Patrick to Engage and Impact Your Group