Keynotes


(In-Person & Virtual)
Excellent speaker. Thanks for bringing Patrick to this conference. I've heard many motivational speakers, but Patrick is "one of the best."
"Patrick made us laugh, think and learn all at the same time."
– Jody Fitch, Children's Medical Center
These are outstanding presentations to

open

the day's program,

inspire

them

at lunch

, or

close

an event on a

positive note

.
Delivery Formats

:  In-Person Presentation | Virtual Keynote | Live Streaming Workshops| Breakouts & Full-Day Programs
"Communicating with IMPACT"

Strategic/Tactical Leadership Communication Skills to Achieve Greater Results
In today's high-tech world, good old-fashioned, verbal communication is not as good as it used to be. In this practical and engaging presentation, you will learn a practical six-step system to improve communication and get better results.
Patrick takes a look at how we lead, communicate, and present information because very often the message we send is not necessarily the same message others receive! Improved communication leads to improving your bottom line, enhancing relationships, building teams, gaining and retaining customers, and managing change, less stress, and better service. Learn how to reduce misunderstanding and communicate in less time.
You will learn the 6-Step IMPACT process to achieve greater results, based on Patrick's book "Communicating with IMPACT":
I-Intention – Teach you how to craft a powerful

intention

statement
M-Message – Learn how to create your

message

to achieve your intention and choose the best

method

for delivery
P-Person – Identify and utilize the four fundamental behavioral styles to "

personalize

" the message
A-Activate – Discuss "

active listening

" skills to help you and the receiver stay focused and present and how to "

actively engage

" the receiver
C-Clarify – Explore techniques to

check for understanding

T-Transform – Show you how to

transform

  your words into actions to get greater results
These principles will provide you with the tools you need to lead more effectively, communicate more clearly, actively listen, present more powerfully, create deeper relationships, enhance your credibility, increase sales, achieve greater results, and positively impact the lives of others.
(Patrick will customize this program to your group's needs and challenges.)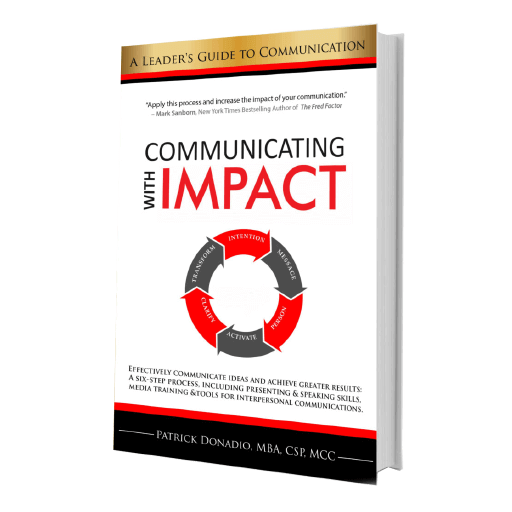 Other Keynotes available:
(Full outlines are available for these programs up request.)
*Becoming a "Kaizen" Leader
The Japanese word "Kaizen" means "continuous improvement". Successful leaders continually evaluate themselves to see how they can improve their skills to guide their people and their organization to greatness. 
What are your strengths? Where can you improve? This program will provide some clues when you evaluate yourself on the 14 traits successful leaders possess. Join Patrick Donadio, Master Certified Coach, for this entertaining and content rich session as he teaches you practical techniques to take your leadership skills to the next level and become a "Kaizen Leader". Plus bonus handout – "The 10 Commandments of Leadership."
Patrick believes in trainee involvement, using group discussions, exercises, real-life examples, and planning time to put these principles into action. 
*Presenting with IMPACT: Powerful Presentation Design and Delivery Skills for Leaders
The number one indicator of success and upward mobility is how effective you are at speaking to groups. Learn from a Pro! The secret to a powerful presentation is not just content but the way you deliver the material. Based on Patrick's book "Communicating with IMPACT", this interactive seminar is for anyone who must present to a group, run meetings, and/or sell ideas to others. You will walk away with the tools to add polish and pizzazz to your next presentation.  
The days of the talking head are over!  Today's audiences are more sophisticated, more educated, and more impatient–they want to be entertained as well as be informed.  Whether you are speaking to two people or two thousand, selling ideas, or delivering information to others, good communication skills are key. This engaging keynote is designed to start you on your way to becoming a more organized, confident, dynamic, and entertaining presenter.  
Come learn from a pro who has been speaking professionally for over 30 years.  Patrick Donadio is one of the few people in the world to have earned both the Certified Speaking Professional (CSP) and Master Certified Coach (MCC) designation. 
*Communicating with STYLE
Computers have manuals – Why Not People? 
The most effective people are those who understand their strengths and weaknesses and develop a plan to adjust and improve.   Once you understand yourself, then you can learn how to work more effectively in your environment.
 This interactive and engaging program is designed to teach you the four personality styles (DISC) and how they affect everyday communications.   You will learn which style you are, how to read other people's styles, and how you can adapt your communication style to improve relationships, increase productivity, build teams, manage change, and increase profits. 
*Belief Driven Success
"Nothing changes until you change!" Every day the thoughts/beliefs we possess about our self/abilities and the world around us drive our behaviors and results. The good news is we can learn how to upgrade our beliefs to achieve even greater success. In this practical yet entertaining program, Patrick shares what successful people do well and techniques you can use immediately to increase your success.
You will learn practical techniques to: proactively create your future success; anticipate and overcome roadblocks; change your beliefs and behaviors to achieve extraordinary results; develop the courage to face change; turn mistakes into "learning opportunities" and prepare to take risks to quickly apply these newly learned skills. "Belief Driven Success" guides the audience on how they can be more, do more and have more in both their professional and personal lives.
*Business Development – The Attraction Factor
The relationship with your client doesn't end with the purchase that's where it begins. Learn low-cost, highly effective solutions to increase sales, cross-sell clients, build a referral network and establish yourself as "the" expert. Patrick shows you how to build and deepen relations to grow your business!
Book Patrick to Engage and Impact Your Group
© Copyright Patrick J. Donadio 1987 – 2020 All rights reserved.