"Cooking the Italian Way"

Meet My Mom "Filomena" Donadio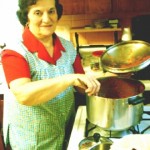 If any of you have heard me speak you know how much I love ITALIAN FOOD.  Whenever I tell the story of how my mom goes overboard for the holidays (or when we have special guests over), people come up to me after the speech and ask either to get my mother's recipes or her address.  I can take a hint, so I have added this page to my site.  Before I give you the recipes, let me tell you a little about my mother.
My mom, Filomena Donadio, was born the daughter of Italian immigrants.  Both of her parents came to America from Italy and Sicily.   She grew up in a small town in Northeast Ohio (where she still resides).  When she got married, her parents gave her the lot next door as a wedding gift where my parents built their first (and only) home.  I was very fortunate to grow up living with my grandparents next door. Not a very common occurrence today!
My mom is an inspiration to me.  At 74 years old she obtained her driver's license.  Talk about setting goals and overcoming roadblocks; my mom is a great role model. Remember – "You're never are too old to set ambitious goals."
Here are a few of my favorite dishes that my Mother makes:

Filomena's Italian Recipes  

*Mama Donadio's Homemade Italian Wedding Soup
My Grandma handed down the Italian Wedding Soup to her daughter, my mom.  Since my grandmother didn't read or write, my Mom and I  had to actually watch her and measure everything she did.  Here is my favorite recipe of all.   It's not hard, but it is little time consuming.  That is why they call it wedding soup.  It was usually made for special occasions, like weddings, because it took some time to prepare.
Italian Wedding Soup
Start with 3 quarts of water in a large kettle.  Add a whole chicken (or 4 pieces). Boil for 1 1/2 hours and skim fat.  Next, lower heat and add: salt (to taste), 1/3 cup chopped parsley, 1 cup cooked diced celery, 1 cup cooked diced carrots, spinach (10 ounces – fresh, canned or frozen) and the small meatballs (see recipe below).  Let cook for another 2 hours.  Finally add the diced cracker meal (see recipe below) a few minutes before you eat it.

Cracker Meal Crouton
Take 4 eggs and beat with salt and pepper.  Add 1/4 cup grated Romano cheese and chopped parsley. Beat again.  Now add 1/4 teaspoon of baking powder and gradually add cracker meal until it thickens.  Roll mixture into logs, fry until golden brown.  Dice into croutons and add to soup as described above.

Meatballs
Take 1 pound of hamburger, add 1 beaten egg and 3/4 cup bread crumbs.  Then add to taste: chopped parsley, chopped garlic (or garlic powder), pepper, salt, and grated Romano cheese.  Mix well by hand. Be careful not to make mixture too dry. Roll into "small" meatballs and bake on a cookie sheet at 350° until brown.  Add to soup as described above.
*Mama Donadio's Homemade Manicotti


8 Eggs (2 for the filling)
3 lbs. Ricotta Cheese
1 cup flour
Parsley
1 cup milk or water (or half of each)
Grated Romano Cheese
1 Tsp. Salt
Your favorite tomato sauce
To make the manicotti pancake (crepe), beat 6 eggs.  Add 1 cup of flour and 1 tsp. of salt.  Mix well.  Gradually add 1 cup of milk or water.   Mix well.  Batter will be thin.  Drop small ladle full of batter on hot, non-stick, frying pan or griddle.  Spread batter lightly to make a thin 5-inch, thin, pancake. Turn once.  Cook until light brown.  Note: extra unused crepes can be frozen.   Just place wax paper between each one.
Ricotta filling mixture:  Beat 2 eggs.  Add Ricotta cheese, chopped parsley, grated Romano cheese and salt & pepper to taste.  Mix.  Fill each manicotti crepe with a tablespoon of Ricotta filling and roll. Place overlapping edge down in a lasagna pan that has a thin layer of sauce.  Fill pan with manicotti and cover with more sauce.  You can place a second layer on top or make two pans. 
Bake at 350° for about 45 minutes. 
*Mama Donadio's Ricotta Cake
Package of Yellow cake mix
4 eggs
2 lbs of Ricotta Cheese
¾ cup of milk
¾ cups of sugar
1 tsp of vanilla
Mix the yellow cake as directed on box and place in a 9×13 greased and floured pan.
Place the remaining ingredients in a bowl. Beat with mixer until well mixed.  Spread this mixture over the cake mix.  (The ricotta mixture may settle to the bottom that's ok).  Bake for 1 hour 15 minutes at 350 degrees.  Check it at 1 hour with a toothpick, if not done cook remaining 15 minutes. After cooled, sprinkle with powdered sugar.
Italian Proverbs
"Dimmi chi sono, no chi era"
Tell me who I am, not who I was.

"E' meglio vivere un giorno da leone che cent' anni da pecora"
It is better to live a day as a lion than 100 years as a sheep.

"Chi dorme sempre non chiapa pesce"
He who always sleeps doesn't catch any fish.

"Una mano lava l'altra"
One hand washes the other

 "L'abito no fa il monaco"
The habit doesn't make the monk

"Il lupo perde il pelo, ma non il vizio"
The wolf changes his skin, but not his vice